We have been styling your dogs to perfection since 2007. Our talented groomers will treat your dog to a fantastic pampering experience in our state-of-the-art pet salon. We groom all breeds, from large to small! Take a look at our portfolio for examples of our grooming excellence.
Call our salon today for a quote. Pricing depends on breed, size, and style requested.
Grooming Drop Off Hours:
Wed-Fri: 8am-9am
Sat: 8:30am-9:30am
Sun, Mon & Tues: Closed
We can also accommodate additional drop-off times as needed. Please call for arrangements.
We are Kansas City's premier boarding facility. We are a locally-owned, state-of-the-art home-away-from-home for your pets. Your furry friends will be treated as our own and have all day to play in our spacious indoor and outdoor areas. We ensure a perfect guest experience every time by giving you access to our live cameras so you can check-in on your pet anytime while you are away. Watch your dog play all day, get exercise, and socialize! Your fur baby will sleep comfortably in our brand-new, over-sized kennels.

This experience is included in our price of $43 per night. Please call 816-561-3647 and reserve your space now.
**Dogs must be spayed or neutered by one year of age to participate in daycare or boarding.**
Pick-Up & Drop-Off Hours
Tues-Fri: 7:00 am-6:00pm
Sat: 8:00am-4:00pm
Sun & Mon: 9 AM, 12 PM, or 5 PM
As a small facility, we will work with you by appointment for drop off and pick up based on your schedule (including Sunday and Monday).
Please fill out the Doggie Style Bowtique Boarding Agreement below.
We pride ourselves on being Kansas City's premier doggie daycare facility. Come check out our high-quality daycare and boarding area anytime! Our daycare dogs are constantly supervised in a private, fenced-in, large play area with a six-foot fence. You will have on-demand access to our live cameras so you can watch your pets at play. Come check us out today or call (816) 561-3647 for more details.
**Dogs must be spayed or neutered by one year of age to participate in daycare or boarding.**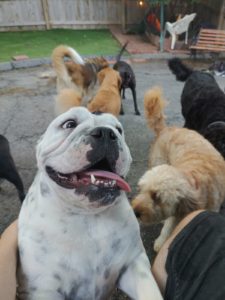 Daycare Hours
Tues-Fri: 7:00am-6:00pm
Sat: 8:00-4:00pm
Sun & Mon: Closed
Single Day Pricing
$28/day
$20/half day (5 hours or less)
Package Pricing*
10 full days for $250 ($25/day)
15 full days for $345 ($23/day)
30 full days for $600 ($20/day)
10 half days for $180 ($18/day)
15 half days for $225 ($15/day)
30 half days for $360 ($12/day)
*packages never expire